Golf & Grow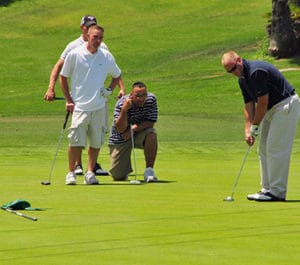 Mondays at Mission Bay Golf Course
Wednesdays, 8:30am, Admiral Baker Golf Course
Lee Browning, 858-459-6839
You are invited to join us as we combine several of the important components of our lives: faith enrichment, genuine fellowship, and challenging golf experiences. Men of all ages are welcome. Contact Alyssa Thomas, alyssat@ljpres.org
Monday Men's Night Fellowship
Due to Covid 19, we will not be meeting this Fall. Please check back at the end of the year to see when we will be starting up again.
Join us for a simple meal and a variety of programs to discuss issues regarding our church and our faith. Men's Fellowship is one of the key places to learn about church activities and how to become involved. Contact Karl Neidert for more information at (858) 674-9845 or KarlNeidert@yahoo.com.