Science & Theology for Emerging Adult Ministry (STEAM) Project: College and Post-Graduate Students. Please join us on February 22nd as Guest Speaker Dr. Grace Kuo leads a discussion of Science and Faith.
Grace M. Kuo, Pharm.D., M.P.H., Ph.D., FCCP, FNAP
Dr. Grace Kuo is a pharmacist and health services researcher. Currently she is Professor of Clinical Pharmacy, Family Medicine and Public Health at the University of California, San Diego. She serves as the Associate Dean for Strategic Planning and Program Development at the Skaggs School of Pharmacy and Pharmaceutical Sciences, Director of SDPharmNet (San Diego Pharmacist Resource and Research Network), Director of PharmGenEd (Pharmacogenomics Education Program), and Trustee of the American College of Clinical Pharmacy Research Institute. Her clinical expertise is primary care pharmacy practice. She conducts practice-based research related to medication safety, inter-professional collaborative clinical practice, and pharmacogenomics, with grant funding from the National Institutes of Health, Agency for Healthcare Research and Quality, and the Centers for Disease Control and Prevention. She teaches pharmacy/medicine/ graduate students, residents, and post-doctoral fellows.
Grace previously served as a missionary to Asia with the Overseas Missionary Fellowship. She is a member of the La Jolla Presbyterian Church, a Stephen Minister, and a deacon.
Dinner at 7PM in LC1 (students), Lecture and discussion at 7:45PM in Fellowship Hall (open to everyone). To RSVP, Jennifer Gotenstein, Jennifer.Gotenstein@gmail.com.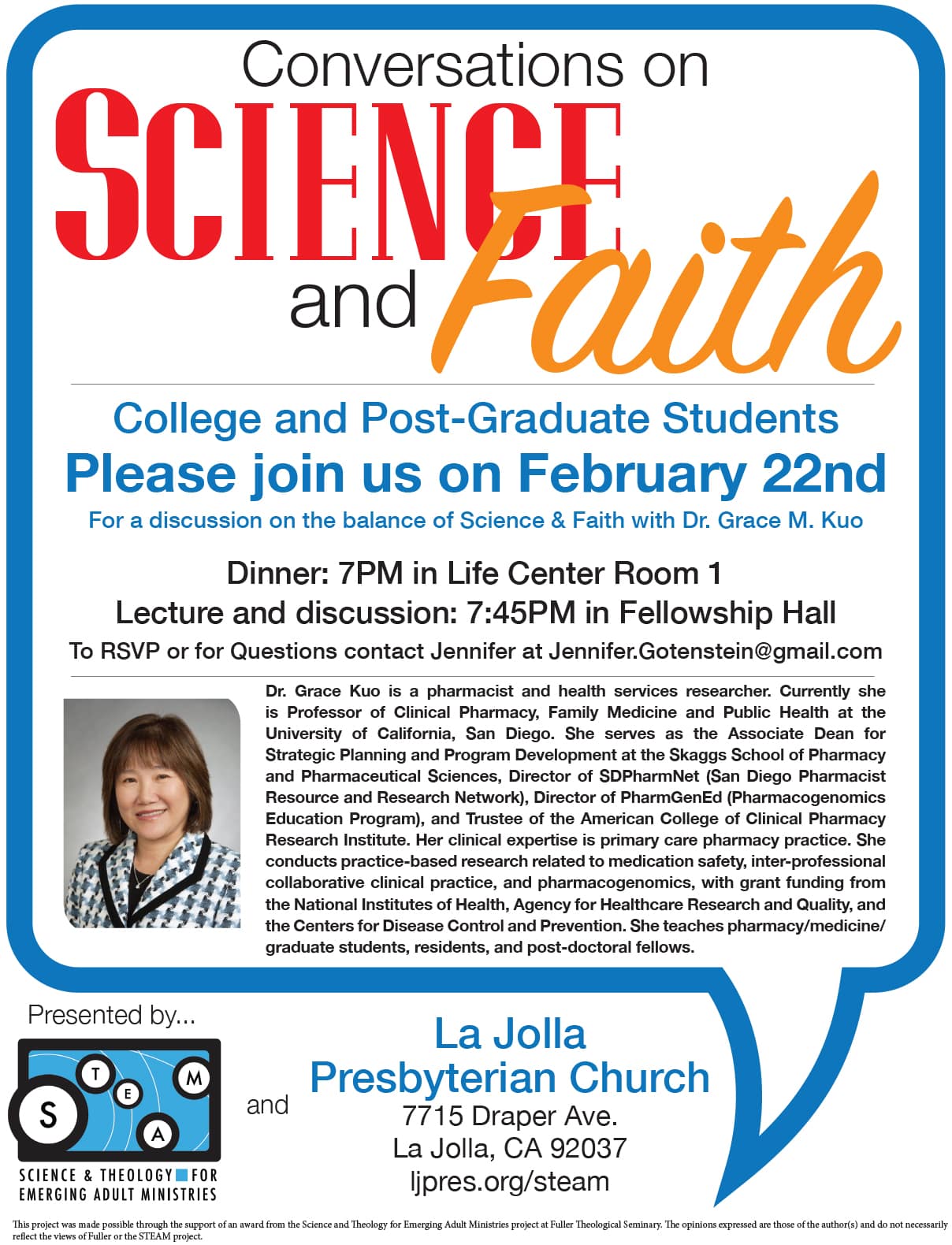 ---
La Jolla Presbyterian Church is participating in a project called STEAM: Science and Theology for Emerging Adult Ministry. This two year project is presented with the help of a grant from the Templeton Foundation and Fuller Theological Seminary, and seeks to engage young adults (college and post-grad) in a discussion of science and faith with leading scientists who are Christians.
As part of this project, our church is hosting series of discussions to provide young adults and members of the church and community an opportunity to "Meet a Christian who is a Scientist". Each event will begin with a fellowship dinner for young adults with the invited speaker. Each speaker will share their stories of faith and scientific exploration to encourage conversations about science and faith. After the presentation we will have ample time for discussion and questions.
La Jolla Pres has actively worked to explore how we can best live out our faith as we serve God and our community. We recognize that God has a story, every person has a story, and we can fulfill our Godly calling best when we embrace the intersection of our collective stories. This project aligns well with our vision of learning from one another as we equip others to understand God's story and how he works in individual lives. We hope our exploration of the intersection of faith and science will broaden the understanding of attendees and help create an environment where such seemingly challenging discussions are encouraged.
Previous Speakers…
October 20, 2016 – Jeremy Kua (Chemist)
November 17, 2016 – James Brailean (Electrical Engineer)
February 2, 2017 – Douglas Given (Geophysicist)
March 2, 2017 – David Levy (NeuroSurgeon)
June 2, 2017 (Fri) – Laura Harbert (Psychologist)
October 19, 2017 – Dr. Satyan Devadoss (Applied Mathematics and Computer Science)
November 16, 2017 – Dr. Darrel Falk (Biology)
The first event in the series was Thursday, October 20th, 2016 with special Guest Speaker is Jeremy Kua, a chemistry professor at the University of San Diego. You can watch the video of the discussion here:
Science and Theology Jeremy Kua from La Jolla Presbyterian Church on Vimeo.
Dr. Kua regularly teaches General Chemistry, Physical Chemistry, and Chemistry & Society. He has also taught two classes related to the origin of life: "Chemistry of the Origin of Life" for junior and senior science majors, and "Earth, Water, Air, Fire, Life!" for a broader audience. His research interests are in the area of chemical self-assembly and complex systems, so not surprisingly he is interested in the origin of life from a chemical perspective. One of his projects is to construct an energy map for networks of prebiotic chemical reactions, and he serves as a research mentor to undergraduate students with his group working in this area. Jeremy regularly attends Ethnos community church in the UTC area. He enjoys reading, crossword puzzles, and he served as a chemistry consultant on the boardgame Bios Genesis – centered on the origin of life!
---
The second event in the series was Thursday, November 17th, 2016 with special Guest Speaker is James Brailean, PhD in electrical engineering, and holder of over 20 patents. You can watch the video of the discussion here:
The third speaker was Doug Given, a Geophysicist and the National Earthquake Early Warning Coordinator for US Geological Survey, U.S. Department of the Interior and Caltech Seismological Laboratory. Mr Given is leading the charge to build the ShakeAlert Earthquake Early Warning (EEW) system for the west coast of the U.S. You can watch the video of the discussion here:
Science and Theology Doug Given from La Jolla Presbyterian Church on Vimeo.
The fourth speaker in the series was Dr. David Levy, MD. Dr. Levy is a neurosurgeon who attended Medical School at Emory University in Atlanta, Georgia and obtained his Neurosurgical Training at the Barrow Neurological Institute in Phoenix, Arizona. He did a Fellowship in Endovascular Neurosurgery at the University of Vienna, Austria.
Dr. Levy has published numerous scientific articles in the neurosurgical literature and wrote the book Gray Matter: a neurosurgeon discovers the power of prayer…one patient at a time, published by Tyndale House, detailing the dramatic intersection of medicine and faith, and the power of forgiveness.

Science and Theology Dr. David Levy, MD from La Jolla Presbyterian Church on Vimeo.