Men's Retreat
This Years Men's Retreat is gonna be… BIG!
Join us September 9-11, 2016 for this annual time of adventure, refreshment and spiritual challenge at the Rancho Bernardo Inn in San Diego, CA. Contact Brady Phelps for more information at bradyphelps@gmail.com
About the Speaker: Josh Kerkhoff works as Director-Vocational Catalyst with Flourish San Diego (www.flourishsandiego.org), a Christian non-profit organization focused on helping people and churches flourish so that our city might flourish. He is ordained in the Presbyterian Church and for 9 years served in a sister church of LJPC. He lives in Encinitas with his wife Amy and has 3 very active boys.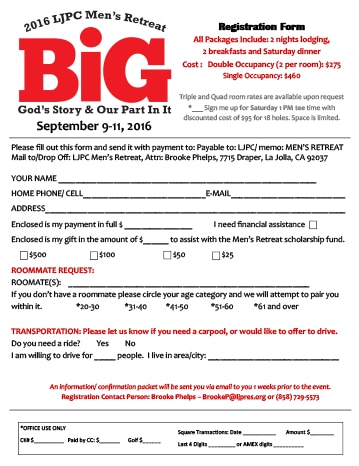 Click here to download the registration form