As an outreach of the Worship and Arts Ministry of La Jolla Presbyterian Church, the LJPC Concert Series is a community service program that provides inspiring music, free of charge, to the congregation and community. Download the printable brochure here.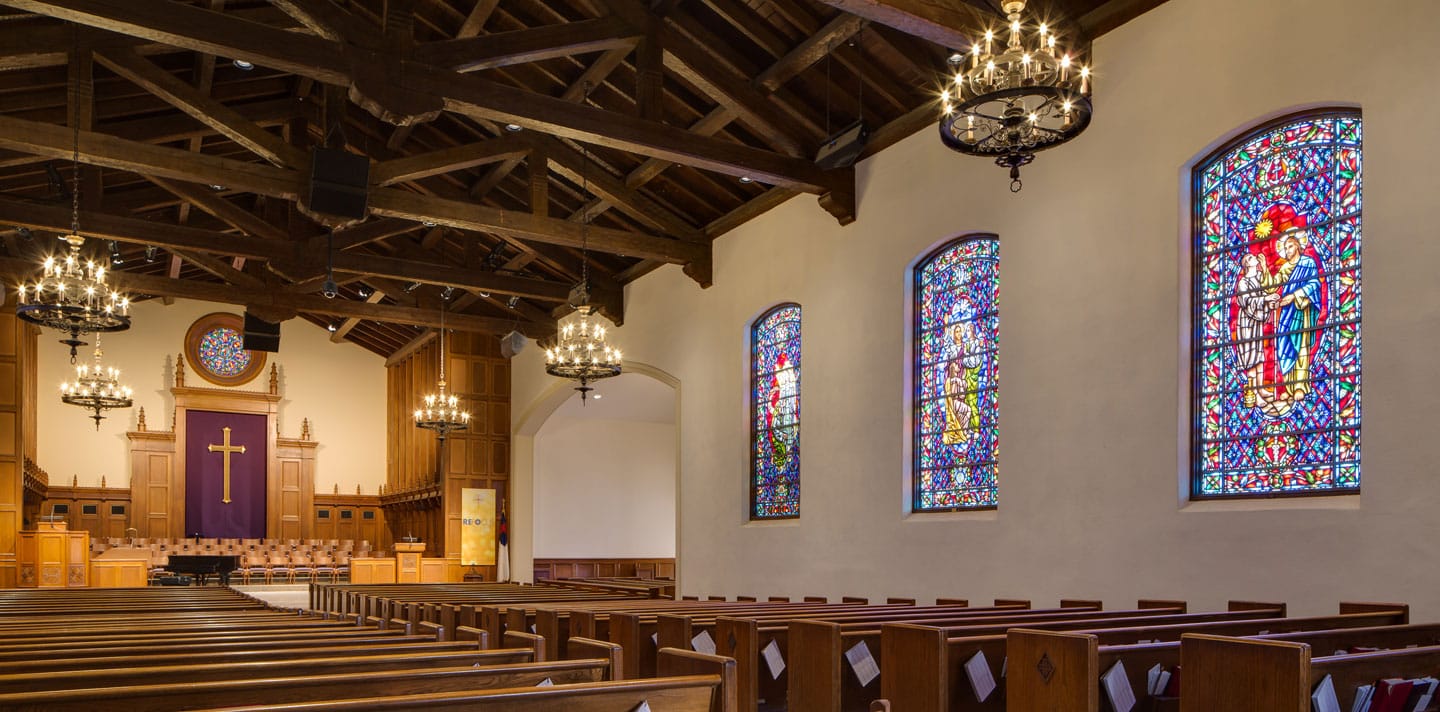 The LJPC Sanctuary is not only a beautiful concert venue, but… "an incredible acoustic space"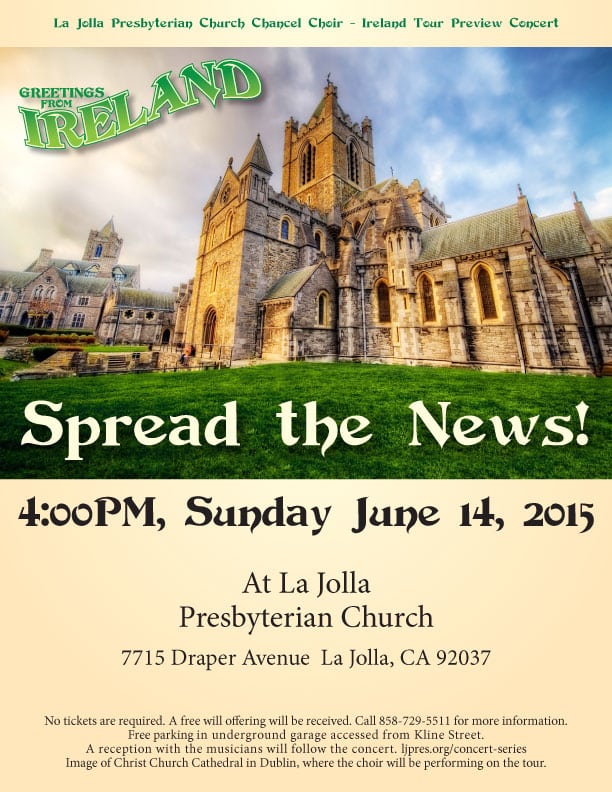 LJPC Spring Concert: Spread the News!
4:00pm Sunday, June 14, 2015
www.ljpres.org/concert-series/
Join the LJPC Chancel Choir in their send-off concert as they prepare to "spread the good news" in Ireland. The Chancel Choir will present music they will sing in churches, towns, and cities on a 9-day tour of the home of St. Patrick the week following the concert. From traditional and American favorites to Celtic and contemporary styles, this concert will have something for everyone. Don't miss a last chance to say "Slán go fóill!" ("goodbye for now") to the Chancel Choir before they take our music to minister in Ireland.
Completed Concerts from Earlier this Season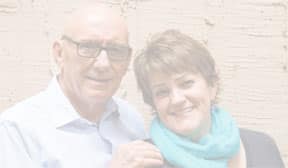 Holly Hofmann/Mike Wofford Quintet featuring Gilbert Castellanos
4:00pm Sunday, October 19, 2014
www.hollyhofmann.com
Mike Wofford and Holly Hofmann return to La Jolla Presbyterian Church Sunday, with good friends and longtime musical colleagues Gilbert Castellanos, Rob Thorsen and Duncan Moore. The quintet will perform a program of bebop, ballads and Latin jazz from such composers as Gershwin, Mendes, Ellington, Monk and Jobim. All engaging performers, this quintet brings stellar musicianship and an easygoing enthusiasm to each and every concert. Please join us for a rare chance to hear Mike and Holly at home in San Diego!
LJPC Christmas Concert: Hallelujah!
4:00 and 7:00pm Sunday, December 14, 2014
www.ljpres.org/concert-series/
The greatest story ever told through some of the most majestic music ever conceived. Following traditional and contemporary carols and anthems of the season, including congregational singing with the LJPC Chancel Choir and professional orchestra, we will conclude with the Christmas portion of Messiah and Handel's exultant "Hallelujah Chorus". With the addition of the LJPC children's choirs at the first concert, this Christmas celebration has become a popular and well-established tradition at LJPC, as evidenced by large audiences at both concerts. Come join us as we celebrate the birth of the Messiah with music's most powerful message of faith.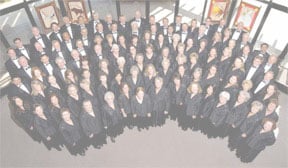 San Diego Master Chorale
4:00pm Sunday, February 22, 2015
www.sdmasterchorale.org
The San Diego Master Chorale (SDMC) is comprised of approximately 100 of the most gifted singers in the San Diego area. This chorale has contributed to San Diego's cultural richness for over 50 years, frequently performing with the San Diego Symphony and the San Diego Opera. SDMC has expertly performed many works throughout the United States and Europe, and seeks to promote the art of choral music in our community by putting on workshops in schools and collaborating with youth musical groups in San Diego.
We have a radio commercial for the concert running on KPRZ 1210am. You can hear the commercial here or on the air eight times a day.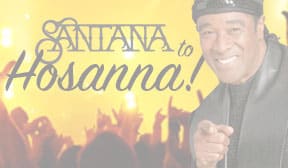 BONUS BENEFIT CONCERT
Leon Patillo, Former vocalist for Santana
"Santana to Hosanna!" A Benefit for Urban Life San Diego
4:00pm, Sunday, March 1, 2015
www.leonpatillo.org
Leon sees himself as an encourager—a vessel chosen, to bring joy into the hearts of many people. His concerts are always filled with excitement, humor and inspirational teaching. He crosses all age groups and ethnic boundaries and is a total performer who can sing, dance and motivate.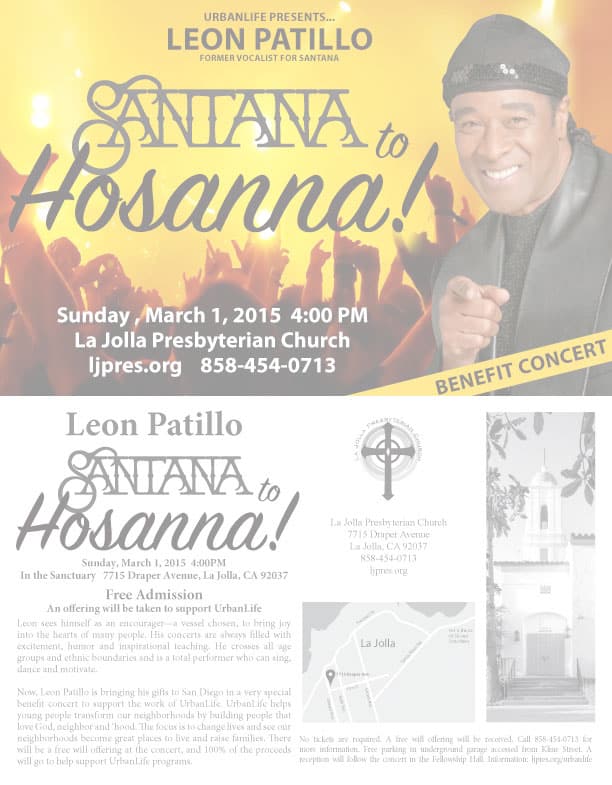 Now, Leon Patillo is bringing his gifts to San Diego in a very special benefit concert to support the work of UrbanLife. UrbanLife helps young people transform our neighborhoods by building people that love God, neighbor and 'hood. The focus is to change lives and see our neighborhoods become great places to live and raise families. There will be a free will offering at the concert, and 100% of the proceeds will go to help support UrbanLife programs.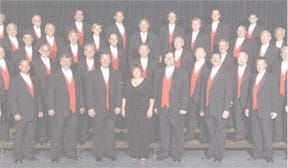 Pacific Coast Harmony Men's Barbershop Chorus
4:00pm Sunday, March 15, 2015
www.pacificcoastharmony.org and www.youthharmonysd.com/youth-chorus
Pacific Coast Harmony Men's Barbershop Chorus and Pacific Suns Youth Chorus are a cappella groups dedicated to the tradition of Barbershop harmony. They have both competed at International Barbershop Conventions. The ensembles are made up of men and young men who have a passion for singing in close four-part harmony. Their selections include Doo-Wop, Country, Patriotic, Gospel, Swing and Broadway styles that are sure to create a memorable evening.