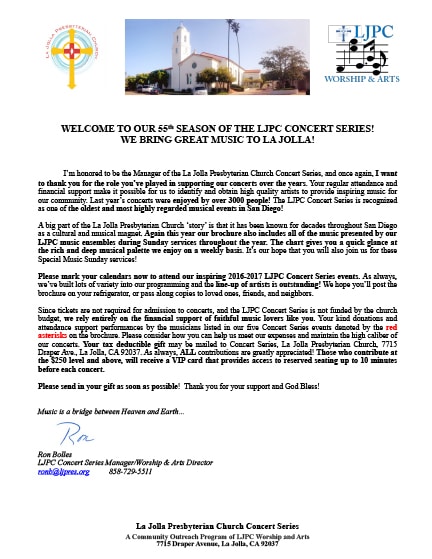 You can help make this concert series possible and get special reserved premium seats. Find out how by reading our Director's letter here.
As an outreach of the Worship and Arts Ministry of La Jolla Presbyterian Church, the LJPC Concert Series is a community service program that provides inspiring music, free of charge, to the congregation and community. Download the printable brochure here.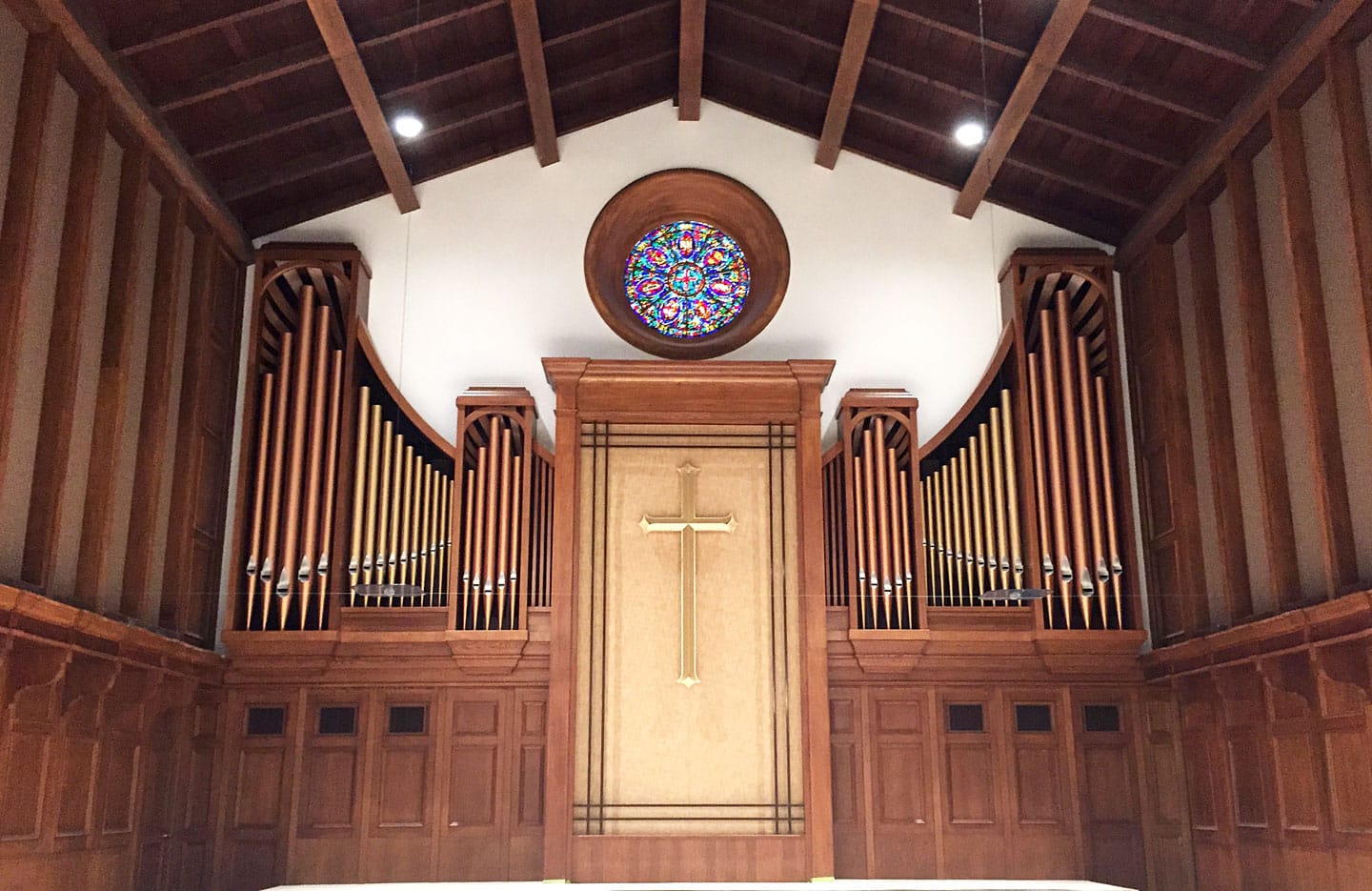 The LJPC Sanctuary is not only a beautiful concert venue, but… "an incredible acoustic space"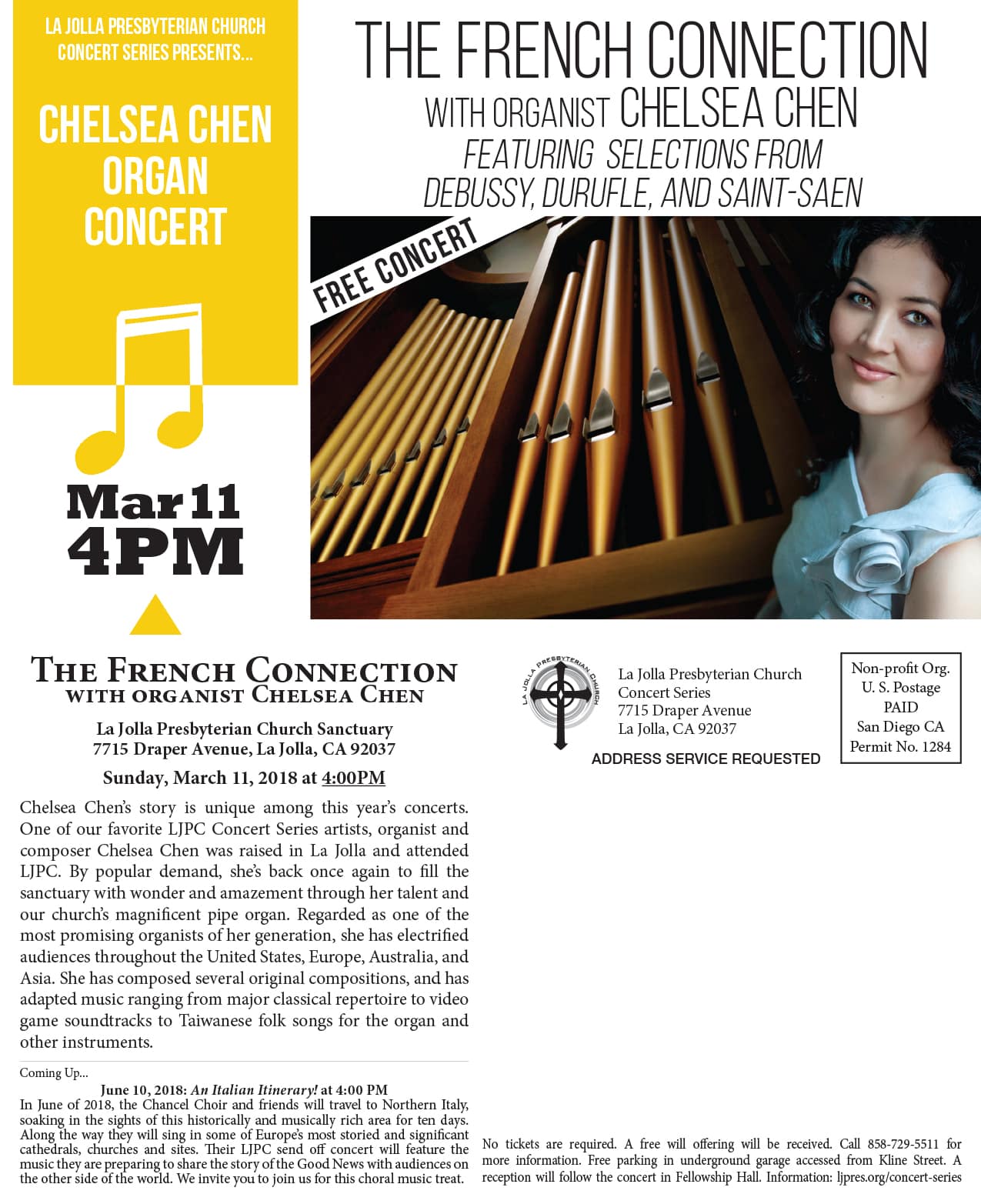 2017-2018 La Jolla Presbyterian Church 56th Concert Series Season
Always free admission, free parking, a free reception, and a free-will offering!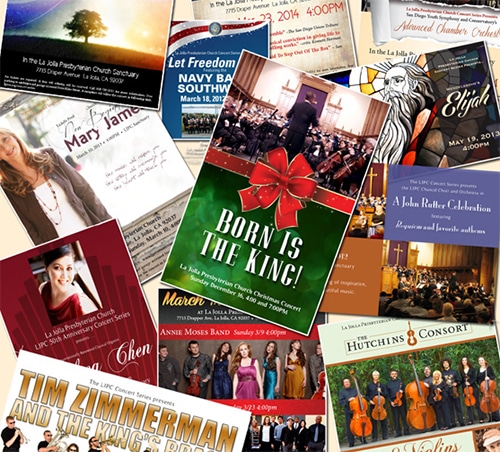 The Mission of the LJPC Concert Series
We bring great music to La Jolla!
As an outreach of the Worship and Arts Ministry of La Jolla Presbyterian Church, the LJPC Concert Series is a community service program that provides inspiring music, free of charge, to our congregation and community. The Concert Series is a perfect example of the intersection of God's Story, Our Story, and Your Story as they are revealed through God's gift of music.
All concerts include…
Free admission
Free underground parking
Free reception with the artists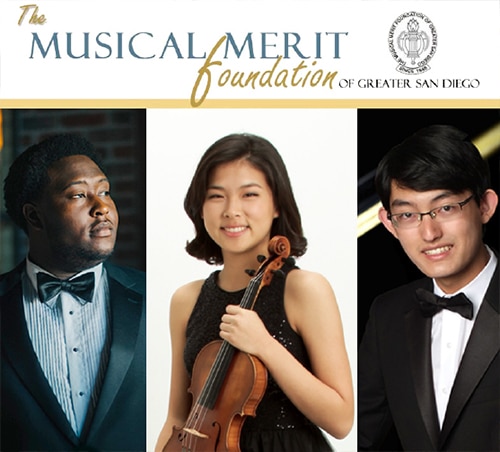 October 15 at 4:00PM
Young Artists Showcase
www.musicalmerit.org
We are thrilled to be joined by three incredible musicians who play well beyond their years. Come celebrate and be inspired by the amazing stories of our emerging artists in our 2nd Annual Young Artists Showcase co-sponsored by the Musical Merit Foundation of San Diego. The mission of the Musical Merit Foundation is to discover, encourage and present young music students of exceptional talent. This year we will enjoy the following MMF scholarship winners:
Nicholas Newton, bass-baritone
Erica Hwang, violin
Jason Kim, piano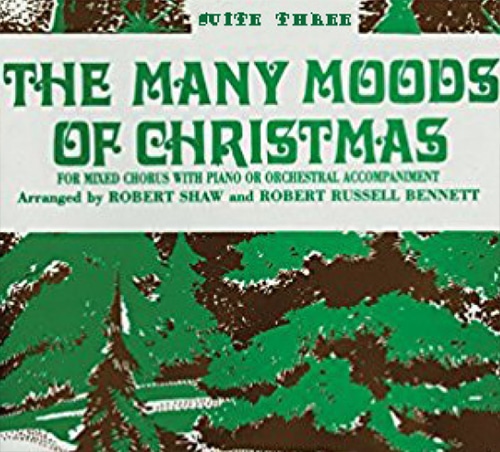 December 10 at 4:00 and 7:00PM
The Many Moods of Christmas Featuring Vivaldi's Magnificat!
Join the LJPC family for a joyful celebration of the "Many Moods of Christmas!"  The Chancel Choir, Children's Choirs, La Jolla Brass, and Handbell Choir will create a moving retelling of the Christmas story through song and scripture in two performances of this annual concert, a favorite in the community.  The concert will feature many carols, including Suite Three of Robert Shaw's iconic "Many Moods" collections, as well as Vivaldi's well-known setting of Mary's song for soloists and choir.  The congregation will also lift its voices in song in a program accompanied by a professional orchestra.  Come join us for the "feel-good" concert of the year!
Reception after the 7pm concert.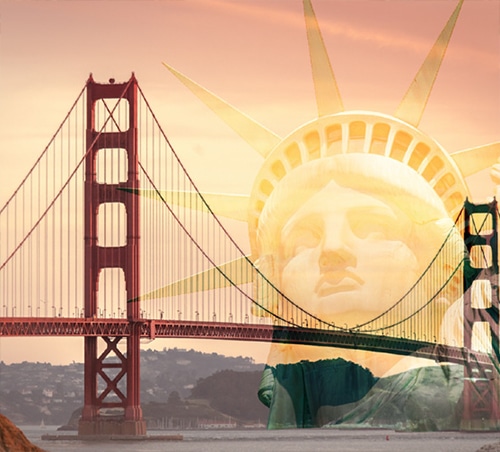 February 11 at 4:00PM
From Sea to Shining Sea
Celebrate the story of our nation through music! A rousing concert of music, marches, heart-stirring patriotic music and selections from the "Great American Songbook" presented by a very special music ensemble to be named closer to the concert date! You won't want to miss this one!
During the month of December, watch for announcements about our surprise ensemble!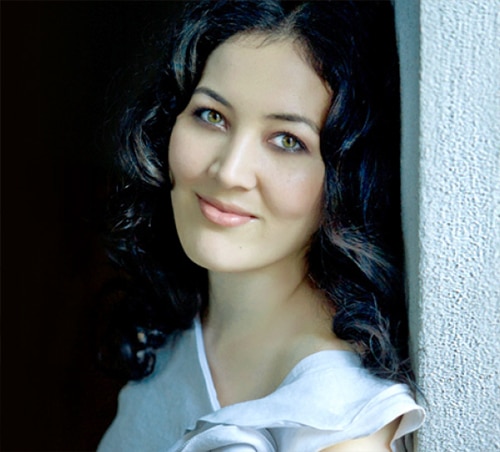 March 11 at 4:00PM
Chelsea Chen Organ Concert
chelseachen.com
Chelsea Chen's story is unique among this year's concerts. One of our favorite LJPC Concert Series artists, organist and composer Chelsea Chen was raised in La Jolla and attended LJPC. By popular demand, she's back once again to fill the sanctuary with wonder and amazement through her talent and our church's magnificent pipe organ. Regarded as one of the most promising organists of her generation, she has electrified audiences throughout the United States, Europe, Australia, and Asia. She has composed several original compositions, and has adapted music ranging from major classical repertoire to video game soundtracks to Taiwanese folk songs for the organ and other instruments.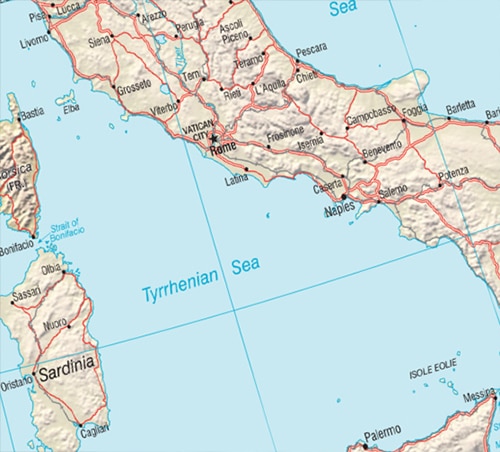 June 10 at 4:00PM
An Italian Itinerary!
In June of 2018, the Chancel Choir and friends will travel to Northern Italy, soaking in the sights of this historically and musically rich area for ten days.  Along the way we will sing in some of Europe's most storied and significant cathedrals, churches and sites. Our concert will feature the music we are preparing as we share the story of the good news with audiences from around the world. We invite you to join us for a musical send-off.