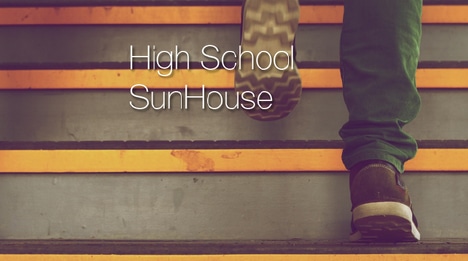 High school is an exciting time of life filled with opportunities! We hope High School SunHouse becomes a place where you discover possibilities are endless while also finding an awesome community to make memories with.
Our Mission Statement:
High School SunHouse will create an environment in which students feel a sense of belonging. As students enter our program they will feel welcome. Through intentional conversations they will become known by our leaders and their peers. Students will belong as they begin to take ownership of ministry activities. God's Kingdom is for every high school student to experience and we will not hinder any student from experiencing Jesus's grace and truth.
High School SunHouse (Grades 9 – 12)
Sunday mornings
On Sunday mornings we worship together at the 10 AM service. We sit together in the front row in the Life Center. Come and join us!  We usually go out to lunch afterwards too!   If you are looking for a Sunday school class, join our Middle School/High School Sunday morning service at 8:45am in the SunHouse.
Sunday Night Program
Meet us on Sunday nights from 7 – 8:30 PM at SunHouse.  Meet other high schoolers, play some awesome games, and learn more about being a Christ follower! Join us early for some yummy dinner!
Events
Ladle Fellowship Ladle Fellowship.  When there is a 5th Sunday in the month, join us for an opportunity to serve at a soup kitchen in Downtown San Diego.
Winter Camp at Forest Home  February 16-19, 2017.  Every year over President's Day weekend.  An amazing camp with 600 high school students all in one place having some super fun times with zip lines, snow tubing hill, high ropes course, super fun games, and some awesome worship and teaching about how God can be in our lives.
Summer Camp at Hume Lake  My favorite week of the year!  1,000 high school students in the gorgeous King's Canyon in Sequoia National Park for a week of ultra fun times.  Skateboarding, paintball, lake activities, bike jump, great places to build lifelong friendships, and great worship and teaching!
Mexico Mission Trip Our team will work to make a huge impact for two families and the Mexican community. From the first to last day of building students will be part of taking a pile of lumber and a concrete slab and transforming it into a house that a family will call their home. Not only does this trip drastically change the lives of these families but this experience will also be life changing.
Fun Events  Here is a sampling of other events we do.  Look at SunHouseOnline.com for more info and dates.  Broomball, SkyZone, 8th-9th grade night, Mystery Night, Coffee House, an annual camping trip, and a whole lot more.