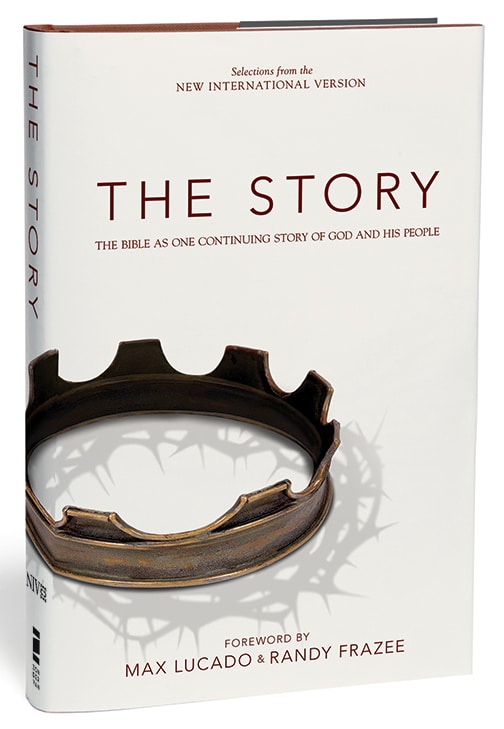 You can purchase the hard cover book from the church in the courtyard for $10, or buy it online here. There is also a Kindle version available here, if you prefer using an Ereader device. Or it's available as an audio book here.
Please read Chapter 1 (pages 1-12) before September 17th.

"The Story" Sermon Series Begins September 17th
Here at La Jolla Pres., we want to see lives transformed through a relationship with Jesus. One way we witness that is by sharing God's Story, and equipping you to share His story as well. To help accomplish this on September 17th we will begin a 31week series called "The Story" to help guide us through the Bible and experience God's word in its entirety.
The Sunday sermons, youth and children's ministries, book study groups, and family groups will all be focusing on the same passages each week.
Over these 31 weeks we'll explore God's Story, hear Your Story, and together reveal Our Story.
September 10
Introduction
The Upper Story and the Lower Story
Introduction Study Guide
September 17
Week 1
God
Week 1 Study Guide
Week 1 Family Study
September 24
Week 2
Abraham/Promise
Week 2 Study Guide
Week 2 Family Study
October 1
Week 3
Joseph/Obedience
Week 3 Study Guide
Week 3 Family Study
October 8
Week 4
Moses/Pride Humility
Week 4 Study Guide
Week 4 Family Study
October 15
Week 5
Ten Commandments
Week 5 Study Guide
Week 5 Family Study
October 22
Week 6
Joshua & Caleb
Week 6 Study Guide
Week 6 Family Study
October 29
Week 7
Jericho
Week 7 Study Guide
November 5
Week 8
Samson
Week 8 Study Guide
November 12
Week 9
Ruth
Week 9 Study Guide
November 19
Week 10
Samuel
Week 10 Study Guide
November 26
Week 11
David as a Young Man
Week 11 Study Guide
December 3
Week 12
King David
Week 12 Study Guide
December 10
Week 13
Solomon
Week 13 Study Guide
December 17
Week 14
King Asa
Week 14 Study Guide
December 24
On Break
Christmas Eve
December 31
On Break
New Year's Eve
January 7
Week 15
Elijah
Week 15 Study Guide
January 14
Week 16
Isaiah
Week 16 Study Guide
January 21
Week 17
Jeremiah
Week 17 Study Guide
January 28
Week 18
Daniel
Week 18 Study Guide
February 4
Week 19
Building God's House
Week 19 Study Guide
February 11
Week 20
Esther
Week 20 Study Guide
February 18
Week 21
Nehemiah
Week 21 Study Guide
February 25
Week 22
The Child Jesus
Week 22 Study Guide
March 4
Week 23
Jesus' Baptism
Week 23 Study Guide
March 11
Week 24
Jesus Walks on Water
Week 24 Study Guide
March 18
Week 25
Jesus and the Children
Week 25 Study Guide
March 25
Week 26
Jesus Crucified
Week 26 Study Guide
April 1
Week 27
Jesus is Alive
Week 27 Study Guide
April 8
Week 28
The New Church
Week 28 Study Guide
April 15
Week 29
Paul's Mission
Week 29 Study Guide
April 22
Week 30
Paul Says Good-Bye
Week 30 Study Guide
April 29
Week 31
Jesus will come back
Week 31 Study Guide