La Jolla Presbyterian Church Preschool is built on the strength of our nurturing and inspiring staff. The teachers in each classroom are dedicated to providing an environment where children and parents participate in the joy, wonder and endless possibilities of childhood.
LJPCPS employs teachers who have a passion for teaching young children, uphold a high standard of quality care, and are committed to the instruction of the Lord. Our teachers are loving, nurturing, and educated in early education and child development. They are qualified by the state of California, have completed the prerequisite courses in Early Childhood Education, and have been fingerprinted and cleared through the Department of Social Services. They also participate in yearly training and staff development courses to keep them current in the field of early education. Each teacher is certified in CPR and First Aid.
Ms. Barbara De La Loza (Etienne), Director

Barbara is honored to serve as the Preschool Director of La Jolla Presbyterian Church Preschool. She possesses an Associate's Degree in Child Development from MiraCosta College, a Bachelor's Degree in Human Development and a Master's Degree in Child Development and Early Childhood Education from Wheelock College in Boston, MA. Before becoming the La Jolla Pres Preschool Director, she obtained twenty-three years of experience as a preschool teacher, Early Childhood Education consultant, interim preschool director, and college professor teaching Child Development and Early Childhood Education at MIraCosta College. Throughout her twenty-three years of experience, her journey has led her through many years as a Sunday School volunteer, nine years as a Program Coordinator for the YMCA, over ten years as a Early Childhood Education Instructional Specialist for MiraCosta College, a year as a full time assistant director for Shandon United Methodist Church Preschool and Kindergarten in Columbia, SC, and a lifetime of loving and caring for children. She is passionate about working with children and feels blessed to be able to learn from them each day. She says, "I am committed to carrying on with our 60 year legacy and will work diligently to carry us into the future. Our preschool will serve as a beacon in the community which reflects our profound respect for children, unwavering faith in God, and dedication to developmentally appropriate practice."
Ms. Julie Gibbs – Administrative Assistant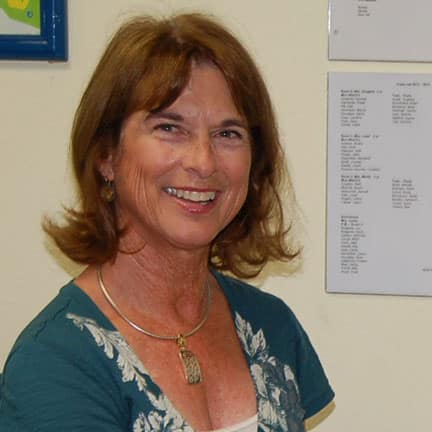 Julie Gibbs has been a member of La Jolla Presbyterian Church since 1980 and began working at the Preschool in 1997 as the Administrative Assistant. She taught preschool in Mississippi and has substitute taught all ages for San Diego Unified School District. Julie is also the Early Childhood Coordinator for the church. She is in charge of the nursery through preschool age program for children on Sunday and has taught Sunday School and Vacation Bible Fun Week. Julie graduated from the University of Mississippi with a B. A. in Sociology and Social Work and earned her Teaching Credential from San Diego State University. She has three grown sons who all attended LJPC Preschool and a daughter-in-law whom she adores. Julie loves to read, cook and spend time with family and friends.