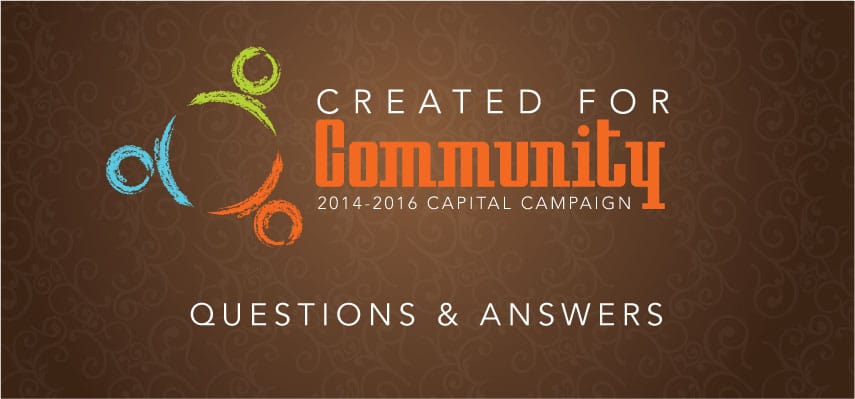 In October 2015, La Jolla Presbyterian Church will celebrate its 110th Anniversary of Ministry and Mission. As we look forward to that celebration, the Elders are embarking on a Capital Campaign to help us renovate, refurbish and repair some areas of our current facility. Having been left a wonderful legacy, we want to be good stewards of the physical plant entrusted to us. While this campaign is in one sense about refurbishing, repairing and retrofitting, ultimately, this campaign is about creating community.
Throughout the Scriptures we are reminded about the importance of community. God gives Adam a partner in Eve. God calls the people of Israel out of Egypt and into a community of people who are traveling together. Jesus gathers 12 apostles around him, to share in community. The apostle Paul travels extensively, forming communities of faith.
This Created for Community Campaign is about creating spaces and places where people feel welcome. It is about remembering that we have been created for community, and that as a church, we need to offer a place where people can find community. It is about a place to share in the joy of connecting with other people who are seeking to follow Jesus. Whether that is adding an elevator in our Children's Wing, refurbishing our sanctuary and organ, or creating a more welcoming environment in our courtyard, it is about creating spaces for meaningful worship and conversations.
This Q&A piece highlights the projects that will be taking place on our campus over the next year-and-a-half and hopefully answers the questions you might be asking. Our hope is to have these projects and endeavors completed by our 110th anniversary in October 2015. Although we have not yet determined the exact, final cost of the projects that are planned, it is estimated that we will need to raise approximately $3,500,000.
On Sunday, May 4th, we will be asking you to consider making a three year commitment to the campaign, that is above and beyond your regular giving to the church. As we look forward to living into the community God has given to us, let us also be praying for the Created for Community Campaign.

In 1928 our current Sanctuary was completed, in 1958 the transepts and stained glass windows were added, and the first phase of the Christian Education/Children's Wing was constructed. Over the years the Chancel area of the Sanctuary and the Organ have undergone various renovations and enhancements.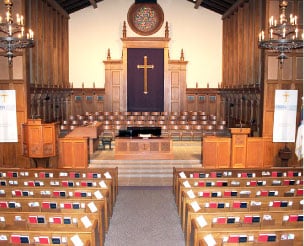 Q: It seems really crowded on the Chancel when the La Jolla Brass or Orchestra play on Sunday mornings, and those portable stages that are used for "big events" in the Sanctuary are not that attractive. What can we do?
The campaign calls for a renovation of the current Chancel area. We are using portable stages that were built over 20 years ago when we have a large group of musicians leading us in worship. The Chancel area will be enlarged to accommodate the brass ensembles and orchestra groups that are now a regular part of our Worship Services. The furniture on the Chancel will also be movable, as will the Pipe Organ console, which will allow for greater freedom in the setup on Sunday mornings, concerts and special events.
Q: How about upgrading the audio and visual system in the Sanctuary?
Our current sound system is very outdated and will be completely redone, including an enhanced system for our hearing impaired church attendees. We will also be "tastefully" adding video projection capability in the Sanctuary.
Q: I've heard that the Pipe Organ needs some repairs. What can be done about that?
Pipe Organs have a lifespan of about 30 years and our Organ was last refurbished in 1985. Our current Pipe Organ is in dire need of refurbishment. There are a number of major issues that have developed with the Organ over the past five years that need attention. They will be addressed as part of the campaign.
Q: Why not buy a Digital Organ? It seems like it would be a cheaper option.
This option was explored before the Master Plan was established for the organ in 1998, and the new four-manual console was built with the provision allowing for the expanded Organ we are now proposing. The tone of a genuine Pipe Organ is still considered to be superior and remains the "gold standard" by which the success of electronic imitators are judged. A Pipe Organ has a greater life expectancy, and we have a substantial equity in our existing Organ that is well worth preserving. The enhanced Pipe Organ will minister both musically and visually, as we enrich the Chancel with the installation of the new exposed Organ pipes. Based on all of the above, we believe that preserving our Pipe Organ is the best long term investment for our church.
Q: What does the Master Plan for the Organ include?
The plan calls for pipes to be placed on the front wall of the Sanctuary, in new casings, as well as in the north Organ chamber, on the pulpit side of the church. Currently all of the pipes are in the south Organ chamber, which does not allow for the best sound from the Organ. Part of this campaign calls for the final enhancement and build-out of the current Pipe Organ. We are hoping to add 32 additional ranks, which will be added to the current 45 ranks, completing the Organ's Master Plan.
Q: What about accessibility to the Chancel?
We will also make the Chancel handicap accessible, and we will create a storage room near the Chancel in what is currently Room 1 of our Children's Wing. This will allow for storage of the piano, organ, pulpit furniture and choir chairs when they are not needed in the Chancel.

The La Jolla Presbyterian Church Preschool has been serving the community for over 60 years and every week more than 200 students attend children's activities and scouting activities in our Children's Wing.
Q: When was the last time our Children's Wing/Preschool was renovated?
Approximately twenty years ago the Preschool/Sunday School rooms were repainted, and new furniture was purchased. Now those rooms are in need of some extensive renovations. We are currently in the process of designing a new model classroom that will serve as the showpiece for the other Preschool classrooms. By April we hope to show you what the newly designed rooms will look like. This will include a welcoming environment for our students as well as new furniture, flooring and paint.
The hallways and the remaining classrooms on the first and second floor, as well as the Nursery are also in need of some refurbishing and reconfiguring. The lighting needs to be redone in the hallways and we need to create spaces that are more welcoming. We will be painting and replacing carpet, as well as raising the hallway ceilings where possible.



Q: How does someone in a wheelchair or a parent/grandparent pushing a stroller get to the 2nd floor of the Children's Wing?
Currently there is no "wheeled" accessibility to the second floor of our Children's Wing. Children and adults with physical disabilities, or in wheelchairs, are unable to access our ministries and programs, which is a very hard reality to people who would like to attend these events. Parents with strollers are unable to access the second floor and so we will be adding an elevator to the Children's Wing that gives access to wheelchairs and strollers. As we talk about community, we realize that it is hard to create community when you have spaces that are not readily accessible.
Q: Could we make an entrance to the Children's Wing from Draper that is stroller friendly and handicap accessible?
Yes. Currently there is no stroller or wheelchair access to our Children's Wing from Draper, except by cutting through the Sanctuary. This can be a rather difficult task. We will be adding a ramp on Draper, allowing easy access for parents with strollers and individuals in wheelchairs. This will also allow us to have a handicap entrance to the Sanctuary from the north side of the building.
Q: Will there be an easier way to access the Children's Wing from the Life Center or Upper Courtyard?
There will also be a new first floor connection between the Children's Wing and the courtyard, on the west side of the Family Life Center. This will ease access and increase safety between the Life Center and the Children's Wing, so that parents and children will no longer have to walk through the alley.

The courtyard is one of the hubs of our community. It is where conversations take place and people connect with one another and visitors.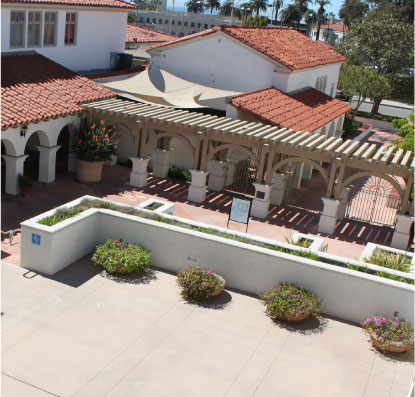 Q: Why change the look of our courtyard?
One of our hopes with this campaign is to create spaces and places where people can fellowship and enjoy this amazing community of faith. Our plans call for a reconfiguring of our courtyards and the addition of nicer seating areas, as well as moving The Press, our coffee cart, out of the library and into the courtyard.
Q: Why is the courtyard so important?
A lot of our core values are lived out in the courtyard. It is the place where we often come alongside one another and offer encouragement. It is where we are nurtured. As we leave the courtyard to go into our community, where we live and work, it is often the conversations and interactions we have had in the courtyard that strengthen us for the journey in front of us.
We consider the courtyard to be one of the major places where people can connect, but currently that environment is not as welcoming as we would like. Though this part of the project will be the least costly, it is an important aspect of what this entire campaign is all about, creating community. We will be adding a new welcome area, as well as providing different things in the courtyard to encourage people to stay around after church and get to know one another.
Q: What will be happening inside of SunHouse?
Some of the SunHouse was renovated about 7 years ago and we will finish off the plans for SunHouse with this campaign. The SunHouse offices will be moved upstairs, so that all of our Youth and Children's staff can share offices together, in community. The current kitchen in SunHouse will be renovated and new audio/visual systems will be added to our current meeting rooms. We will also be reconfiguring the entrance to SunHouse, from the main courtyard.
Q: Will I be able to get upstairs in SunHouse using a wheelchair or pushing a stroller?
SunHouse is not handicap accessible and the plan that was a part of our last building campaign to connect the Administration Building and SunHouse will be implemented, with a walking bridge.  This will allow for the shared use of the Administration Building elevator.  There is already an existing shaft built into the Administration Building that will allow for this access and bridge. Our goal is to make sure that our campus is ADA compliant in all areas because we want to make sure that anyone who wants to visit a ministry or attend an event is not limited by the constraints of our campus.